Photographing Your Artwork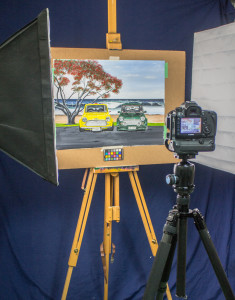 You finally get THAT call. The call you've been waiting for. The call that's going to change your life, make you rich, make you famous. It's the owner of the gallery down the road and she wants to see YOUR artwork. Portfolio tucked under your arm, you race down the road and arrive breathless at "the Little Shop of Art" gallery. You wait around the corner until your rasping breath recovers to almost normal, run a hand through your hair and enter.  The gallery owner looks through your portfolio with positive nods of the head and little throaty noises. She finally looks up with a broad smile and says she would love to show your work." Yay, you think. "Can you send me over a set of digitals for the website and catalog by tomorrow!" she asks. "Sure thing" you reply nonchalantly. You head home walking on air. Suddenly it hits you. "Digitals?" You don't have any. By the time you get home, you've hatched a plan. With artwork strewn across the floor and iPhone in hand you straddle the fruit of your labor and start snapping away. The pics look great until you zoom in and take a closer look. Bit blurry you conclude. Panic begins to set in. You call your mate with the DSLR to help out. He pops in and has a go. When you download the pics, the colour looks all  wrong. Uuugh…
In this day and age of social media, online sales and marketing and print on demand, having a good quality set of digital images of your artwork is essential. In my profession I get to see some rather sad attempts at reproducing artwork so I would like to share some of the techniques I use on a daily basis. Good results can be achieved by either scanning or photography. In this scenario I am going to discuss photographing your artwork. To achieve the best results you will need the following; a decent camera, a good quality lens, a tripod and lighting.
I hope that these tips will get you on the right path making good quality digital images of your precious artwork. In the next part I will discuss the processing of the digital file.
Please feel free to email me on info@printart.co.nz if you have any questions.
/wp-content/uploads/2018/03/PrintArt-Header-1600x340.png
0
0
Print Art
/wp-content/uploads/2018/03/PrintArt-Header-1600x340.png
Print Art
2018-03-31 16:13:15
2018-03-31 16:23:05
Photographing Your Artwork