In the last newsletter we discussed fine art papers and their differences.  Today we are going to have a look at the different photographic papers and how to choose between them.
Choosing a photo paper rather than fine art paper, will give you bolder and more vibrant colours in your image. Which paper you use will give you different results and how you want your image to look will depend on the type of printer, type of ink and of course the type of photo paper.  Photo paper has a brighter white point, which means your images print with true-to-life colours. Photo paper also brings depth to your photos, which cannot be achieved on regular paper. When properly stored, this paper will retain full image quality for 100+ years.
The deepest shade of black (black density) a paper is capable of rendering is one of the most important considerations in choosing a paper type. Photo papers always have a higher DMax value than a matte paper, simply because matte papers are more absorbent and the inks spread out more readily, lowering the density via a process known as dot gain.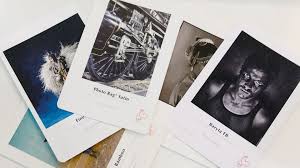 Types of Photo Paper
Print Art has five different photo papers:
Vibrance Luster is a heavyweight photo paper, developed for the discerning photographer who demands maximum colour gamut, dmax, and image resolution.  Using a cockle-free RC base that gives the product a true photographic feel, Vibrance Luster allows for maximum ink coverage and produces stunningly vivid images.  It has an instant-dry surface which allows for easy handling during production and finishing.
Vibrance Photo Matte was designed to deliver stunning, photographic print quality into the lower cost smooth matte paper segment. It has a bright white surface and is ideal for photographers who require a no gloss, luxurious flat matte surface to bring out the beauty in their images.
Prestige Gold Fibre Gloss – Baryta paper.    We have changed now our supplier to Ilford for this paper.  A beautiful 100% cotton paper similar to the old fibre based darkroom papers with a gentle warm tone. This traditional fibre-base photo paper is ideal for high quality black and white printing and offers an exceptional wide gamut for colour, detail and tonality.  It has no optical brighteners, and a seamless transition between contrast, shadow detail and highlight areas,
Metallic Photo Paper offers a unique metallic pearlescent image with a slight warm tone and high degree of luminance and reflectivity. It exhibits rich, dense blacks, a superb colour gamut and contrast range, and lends an almost 3-D look and feel to the image. The paper itself is resin-coated and has a microporous glossy coating with mica pigments that help produce the metallic look, reminiscent of traditional silver halide prints. It is designed for use in high-end photography.
Glossy Photo Paper is a resin based paper with traditional gloss finish.  This vibrant glossy photo paper gives you crisp, clear photos that are high-quality without the high cost. An economical choice for great prints!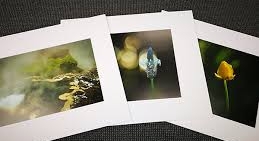 Photo Paper Finish and Quality
The first thing that consumers look at in a photo paper is the finish. This is a translucent chemical coating that is designed to improve the appearance of the print which otherwise may appear dull.
The quality of photo paper is measured in colour range, archival properties, instant dry-to-touch etc. It is the 'receiving layer' that determines all of this.
Resin Coated (RC) prints refers to the traditional, wet- processed, darkroom photo papers coated with resins that allowed for quick processing and drying times.  RC papers are more water proof and scuff and scratch resistant than their matte paper counterparts, but are much thinner.
RC paper surfaces range from glossy to semi-glossy, luster, pearl, satin and more. By far, these are the least expensive and most widely used inkjet papers. They deliver deep blacks and white whites, great contrast and sharpness, and are certainly appropriate for a variety of subject matter. RC papers are usually the go-to papers for portrait and wedding photographers.
If you are seeking the highest quality print in a fine art photo paper category, there is the newer class of fiber-based Baryta papers. This is a personal artistic decision and depends on the ultimate destination of the print. If you are only showing your work at local county fairs or arts and crafts festivals, then RC papers are fine. Just be aware that fine art collectors and buyers, as well as museums, would not consider these papers acceptable. So if exhibiting in a gallery, you will need a high quality fine art photo paper.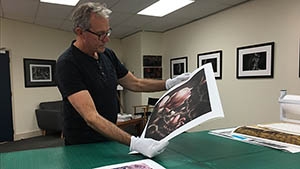 How to choose my paper type
Remember, the selection of a paper is a very personal, artistic decision. Only the artist can determine what type of paper best conveys their vision. There are no hard and fast rules of thumb for any given image. Like all art, photographic images speak to us in a deeply personal and spiritual way. It depends on the mood you are trying to convey and emotional content of each particular image. The best way to choose your paper type is to print the same image on a variety of papers to determine what looks and feels best to you….or give us a call … read more.
Pro Tip: The quality and resolution of your original image is very important to achieving an excellent print.
Save your image as a flattened 16-bit tiff or first generation jpeg in at least Adobe RGB colour space and 300ppi resolution; the image needs to be non-destructively edited; has proper noise reduction and detail sharpening applied; and has enough pixels to print at the desired print size.