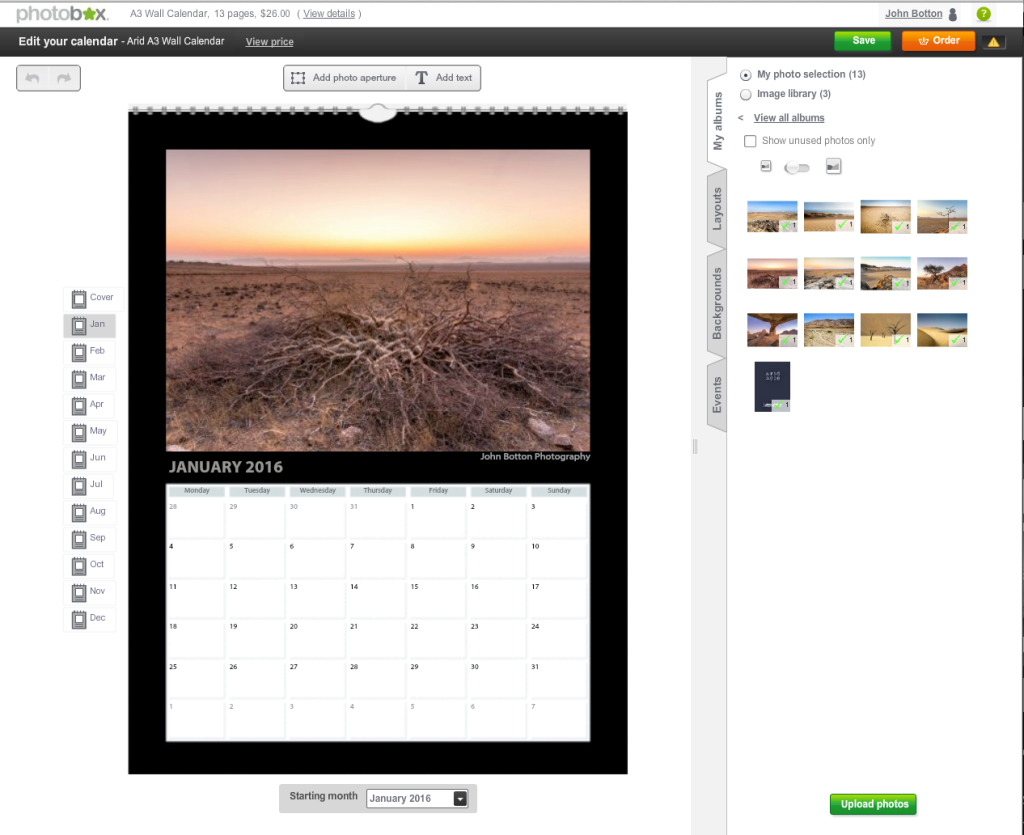 As a fine art photographer I have never had any problems with creating content, it's what I love doing, but the challenge arises when it comes time to decide what to do with many of my images. I don't know about you, but I have a catalogue full of photographs that just don't make the cut; don't get me wrong, they are great images, but just not "fine art". So the question remains, how to monetise the time, effort and materials that went into the creation process. So here are a few ideas for you to contemplate.
Making Calendars
Yup, I hear you turning your nose up, but before you toss the baby with the soapsuds, hear me out. Making a calendar these days is as easy as pie and a great way to create gifts that keep on giving, well at least for a year. There are a number of really slick websites out there that give you full control (well nearly) over the whole creative process. Just register an account, select from a range of templates that give you a readymade calendar, upload your images and decide which pic you would like to feature in January, February, March and April and… you get the picture! Then just click order, pay your money and Bob's your uncle.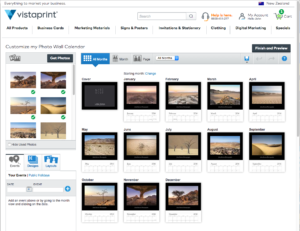 OK, so it's not THAT simple. The trick to using any of these self-help calendar creation websites is preparation. Once you have decided on which service you prefer, find one of the templates that would best suit your work. These range widely from single landscape format layouts to multi image affairs and in many cases, you can mix and match from month to month. The secret is, keep it simple, decide on a style and make use of this for the whole calendar. If you haven't already done so, the next crucial step is getting good quality digital images of your artwork (see previous article on this). Make sure your images are finished as you would like to present them, have a resolution of at least 300dpi at the correct size and are saved as hi resolution .jpg files (or whatever the file format is suggested by the service you've chosen). While preparing your images, keep your chosen layout in mind and make sure that your images will slot into this format. You may need to do some cropping to keep the presentation consistent, as most of the services don't have any image editing options. Pay special attention to the front cover image of your calendar, it has to be eye catching and say "This is my work" loud and clear, whatever your style.
Here are a few of the sites that I investigated:
While you're checking out these sites, take a look at the other products they offer. You could even come up with a new range of coffee mugs or mouse pads.
Canvas Prints
After chatting to many artists who sell their work at markets, the one thing that I have learned is "ready to hang" is king of the pops. Gift and wall art hunters who frequent these spots are often looking for artwork that they can take home, pop on the wall and enjoy without the hassle of getting it framed, or give as a gift knowing the recipient won't have a similar challenge. A simple solution is stretched canvas prints. OK, so canvas prints may not match up to fine art prints on super luxurious, cotton, archival paper but the quality of modern materials and printers puts them up there with the best and there are definitely pure cotton archival canvas options available… at a price of course. I guess the first naval you must contemplate is "does your artwork lend itself to canvas?" It doesn't have to be originally created on canvas to suit this form of presentation, but with some careful thought and imagination, many images are adaptable to canvas prints.
So, where to begin? Well as before, any artwork that's going to be printed needs to be digitised and saved as a 300dpi .TIF image at 100% of the final print size. Once you have your artwork as a digital image, you can even do some creative stuff in Photoshop by creating a montage. Just an idea 😉
The most important decision you'll make on this venture is the price point you are aiming to sell at. This largely influences all your other options you need to decide on.
Canvas quality: this will vary from low cost Chinese polly/cotton blends to archival quality cotton products made by some of the top paper producers in the world like Hahnemuhle, Breathing Color and Canson. The image detail, clarity and colour reproduction will vary markedly from one end of the canvas spectrum to the other. Like art paper, canvas also comes in different weights; the heavier canvas will hold its shape for longer after stretching.
Printing: again, the print quality will vary from inexpensive 6 colour machines to top end 12 colour giclée printers. Inks may also be rated as archival, so if you're printing on a good quality cotton substrate, it makes sense to use good quality pigments.
Stretcher bars: selecting the right depth of frame for canvas prints can have a marked impact on the artworks perceived value. Going with a skinny frame on a large piece will say "I'm cheap" while a deep frame even on a small piece will give the impression of a "work of quality".
Varnishing: light is the single worst enemy of any canvas print and direct sunlight could render even a well printed archival artwork to faded junk in a few years. Good print companies will usually varnish their prints with either a gloss or satin UV protection that should offer protection from light, as well as allowing the surface to be kept clean with a damp cloth.
Edge finishing: what to do with the edge of the canvas print is a personal matter (that's the bit that wraps around the stretcher bars). The most popular options are mirror the image, which makes the image appear to wrap around the edge. Mirror and blur the image, this will give a similar effect as above. Do like the Stones and paint it black or just leave it white. Then again, if you're a purist you may want the actual image warped around the sides. Whichever way you go, it's something to think about.
Here are a few printers that I have investigated:
Wishing all my fellow creative peeps a safe and prosperous festive season. Go out there and CREATE – PRINT – SHARE
/wp-content/uploads/2018/03/PrintArt-Header-1600x340.png
0
0
Print Art
/wp-content/uploads/2018/03/PrintArt-Header-1600x340.png
Print Art
2015-10-12 15:31:01
2018-03-31 16:25:55
Making Inkjet Prints Work For You