Online Ordering
How to use our on-line ordering system.
Before you place your first order, go to "My Account" to login or register.  This is found on the right of the secondary menu.  A dropdown list appears – choose My Account again.  (see the image below).
If this is your first time placing an order via the website, then choose "Register". You will need to enter your email address, set up a Password and a Billing Address when you first start. If you have previously used the new order system then simply login. If for some reason you get the message "Error: An account is already registered with your email address. Please log in" then click "Lost your password?" to get that emailed to you (just follow the instructions).
Once you have set this up, all you have to do in future is Login and start placing your order.
Step by Step Print Order: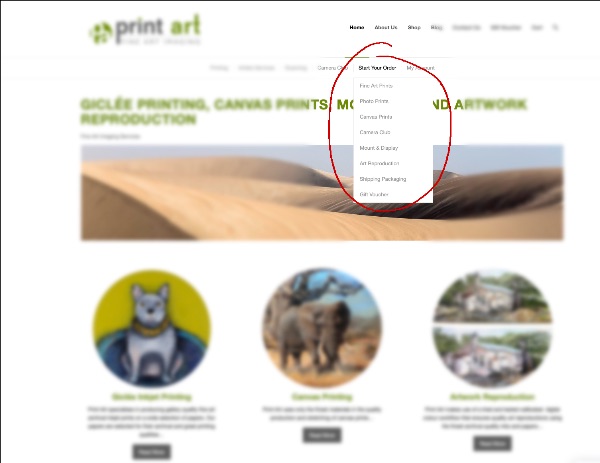 Step 1:  Go to "Start Your Order" on the menu.
Step 2:  Make your choice for your order eg Fine Art Prints.
Step 3:  Choose your paper from the range listed.
Step 4:  Refine your order – follow the instructions to choose print size, upload file, etc.
a) At this point in Step 4 you will notice that when you select your print size the price (excluding gst) is visible.
If you choose Custom Print Size, then fill in your custom print size in the space that pops up. Please specify size in cm or inches. We will email an invoice with  the print price on submission.
b) You are also able to upload a file, upload multiple files, use a file that we keep for you, or even send us the link for downloading (see below).

c) If you choose "Batch File Upload" to upload multiple files, a red "x" is visible in front of the file name to allow you to remove the file that's uploaded.Please note that there is a 100mb file size limit for uploading.  If you wish to upload a file bigger than that you can:
Use print file stored with Print Art – and then WeTransfer it to us
Download Link – if you have the file on Google Drive or elsewhere online.
d)  Select "Drop Shipping Service" if required – at check out you can supply the customer shipping address details.e)  Provide any "Additional Information" if required.  eg if you have used WeTransfer to send us your file or if you have any specific requirements for your prints.f)  Select packaging in a cellophane sleeve with backing card if needed. Please remember to select the size that matches your print.g)  Choose the number of print copies that you want and then click "Add to Cart".
You will need to wait at this point while your image uploads.
Step 5:  After the upload your order confirmation appears on the screen.  Please check it before proceeding.  You are still able to change your order at this point by:
clicking the "x" on the left to cancel the product ordered
changing the number of prints requested
APPLYING YOUR COUPON CODE…September's code is SPRING2020
Remember to "Update Cart" if you make any changes
Choose your Shipping Method before proceeding to checkout
At this point you will notice the full total of your order which includes gst.
When you are happy with your order "Proceed to Checkout".
Step 6:  At Checkout you can:
Login if you have not already done so.
You can also enter your coupon code if you didn't do it in Step 5.
Or use a gift card
Just a quick tip:  make sure you are logged in – your details will automatically pop up on the billing details.
If you are drop shipping, fill in the customers details in the shipping section.
Step 7:  Check your order again before "Placing Your Order"
Please note:   We will invoice you when your order has been received and verified. Once you receive the invoice, please make payment directly into our bank account using the INVOICE NUMBER as the payment reference. Your order may only be processed when the funds have cleared in our account.
Step 8:  After placing your order, confirmation of your order will be shown, including an order number, details of the order and a billing and shipping address.